CHS Boys Tennis

Join the CHS Boys Tennis program! Our team is as much about fun as we are about competition. The sport of tennis allows for individual and team accomplishment and is something you can play for the rest of your life. Great tennis players are mentally strong and use nearly every muscle in their bodiy. It's a great workout and compared to other sports, has fewer injuries.
Our Mission & Goals
CHS Boys Tennis is about self-improvement, dedication, competitiveness, and having fun. We are a family on and off the court. While we strive to make it to State every year and be successful at Districts, our primary goal is to be excellent on the court, in the classroom, and in the community.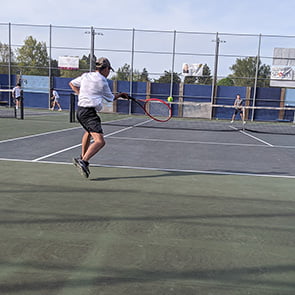 Our History
The CHS Boys Tennis program has finished in the top 5 in the OSAA State Championships 17 times, including twice as State Runner Up, 6 times in 3rd Place, 4 times in 4th place, and 5 times in 5th place. Past State Champs are Rusty Hand and Tom Kuenzli, who won the Doubles State Championship in 2006 by beating Niles Beckley and Brett Kingzelt of South Eugene by a score of 6-4 4-6 6-3.